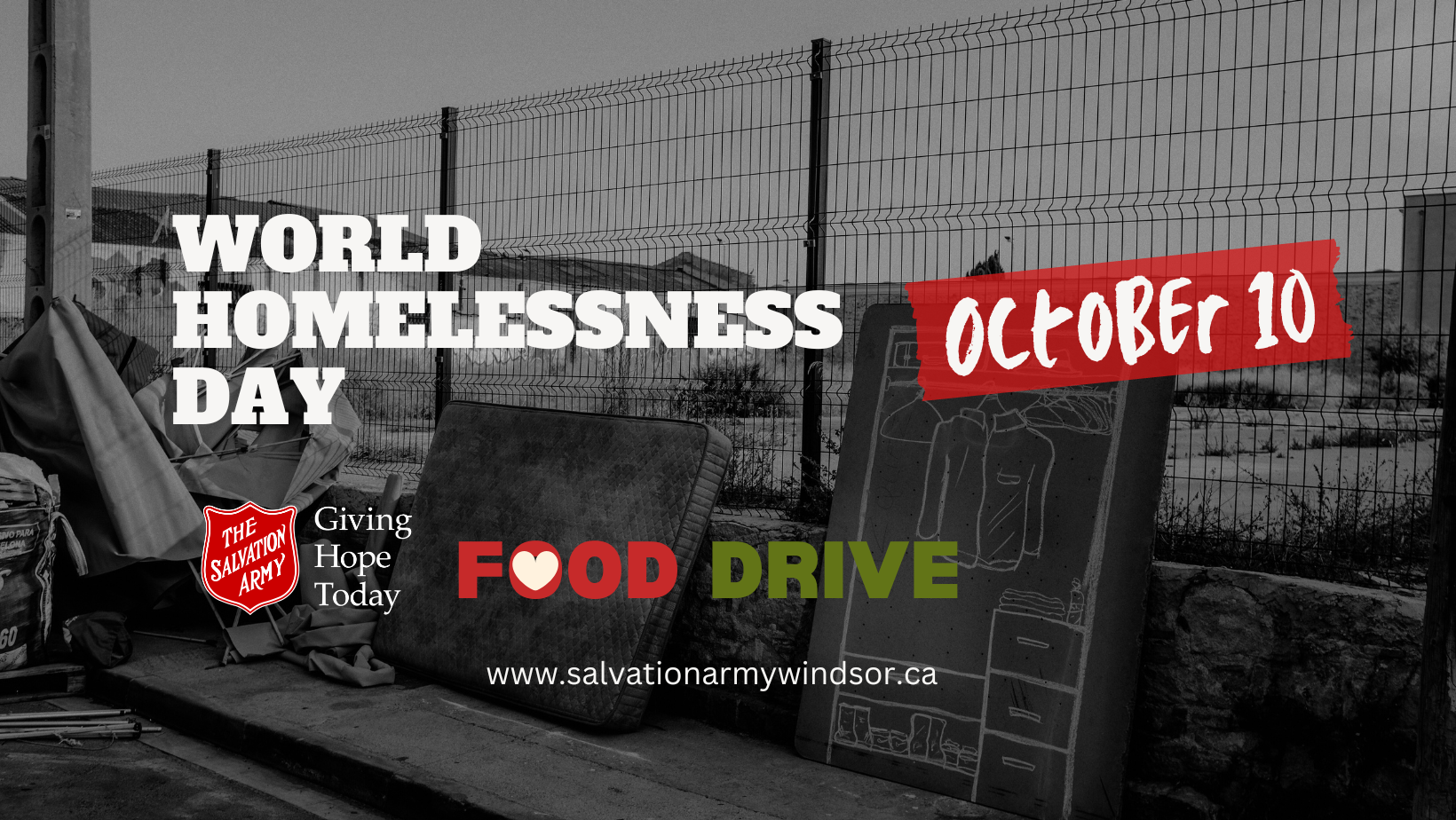 World Homelessness Day
Homelessness is on the rise in Windsor Essex County. On October 10th help us to recognize world homelessness day.
We will be holding a food drive on October 10th to fill our Food Bank for those in need. Thank you to Loblaws, No Frills, Tailgate Takeout and Windsor Police Service for your support.
Our Food drive will be held from 11AM-4 PM at all below locations. Monetary donations will also be collected. Non expired and non perishables only please.
Drop off Locations:
– 355 Church Street, Windsor (Salvation Army)
– 2430 Dougall Ave, Windsor (Superstore)
– 4371 Walker Rd, Windsor (Superstore)
– 400 Manning Rd, Tecumseh (Zehrs)
– 5890 Malden Rd, Windsor (Zehrs)
– 3975 Wyandotte St E, Windsor (Tony and Kathy No Frills)
– 3199 Lauzon Rd, Windsor (Learning Corner Child Care Centre)
A free BBQ will be held at the Windsor Centre of Hope (355 Church Street) to anyone in need of a hot meal. Our BBQ will be held in our parking lot from 11AM-2PM. Monetary and non perishables will be collected if you wish to do so.
Want to get involved? Hold a food drive of your own and contact us to list as a drop off location. Please call us at 519-253-7473 ext.250. Thank you for your support!
In 2022 The Salvation Army Windsor Centre of Hope:
 Housed 813 people
 Distributed over 268,000lbs of food
 Free Showers to 173 people
To continue to help those homeless we need you!