PLEASE NOTE THAT OUR PROGRAMS HAVE RESUMED SINCE WINDSOR-ESSEX HAS BEEN MOVED TO STAGE 3. DUE TO SOCIAL DISTANCING WE HAVE LIMITED SPACE AVAILABLE IN OUR DINING ROOM. IF YOU ARE INTERESTED IN ATTENDING A PROGRAM, PLEASE CALL OUR CHAPLAIN AHEAD OF TIME.
MASKS ARE MANDATORY.
The Spiritual Care Mission
Serving people with compassion while the Holy Spirit transforms their lives
Meeting the physical (safety), emotional and spiritual needs of others
Making disciples as we reveal Christ to others
Connecting people to local churches, faith and/or community organizations
The Spiritual Care Vision
A team that serves with compassion for the purpose of fostering deeper relationships and connecting to community.
With this in mind, the Spiritual Care Team envisions a future where:
We serve with skill and professionalism
We are champions of change (with particular emphasis on Housing First)
We are mobile – able to meet people in our facility or in the community
We creatively address the needs of those we serve while supporting their spiritual and emotional concerns
We see the kingdom of God growing through salvation stories and by connecting those we serve to a local church for discipleship
Description of Target Populations
Chaplaincy Services are open to local community members, clients, and staff. You do not have to be staying in our building or accessing our service to attend, all are welcome.  We provide spiritual support to those who seek it. Our on-site chaplain is available to meet with anyone interested in improving their spiritual health and well-being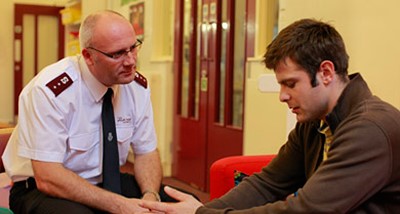 Fill out the form below and a member of our team will follow up with you.