The Salvation Army Center of Hope Windsor through its Community and Family Services Department provides a wide variety of holistic support programs, designed to meet specific needs of the community where we live.  Our clients are from the diverse population in the Windsor Essex Region who have various needs as reflected in the programs we run.
The CFSD Windsor is well known for its Food Bank, Christmas Assistance to families and other types of programs aimed at supporting the vulnerable and those facing challenges in the community. We also partners with other organizations and agencies to improve services and strengthen communities
We provide a holistic program based on the concept of "to feed a man for a day, you give him a fish, but to feed the man for life, you teach him how to fish".
Admission Criteria
The Food bank, Christmas Assistance, Cooking skill, Sewing Skills program requires a preregistration before the services can be delivered to our clients.
Applicants must provide identification for self and each person receiving assistance
Applicants must provide proof of address
Sign a waiver/s allowing the Salvation Army to collect and share information gathered
Attend an interview a CFSD staff
All these other programs are open for walk-ins, because they are primarily geared towards building social skill sets and encouraging networking among members of our community.
Our Community and Family Services department provide a range of services to members of our community.
Food Bank
Our Food Bank offers an array of food items such as meat, produce, milk, canned food, bread, eggs, and snacks to members of the community. We offer the basic needs of food, household items and clothing for low income individuals, students, and families. People who use our foodbank are given the opportunity to make their own food choices.
Due to COVID-19 we have had to make some changes to this program in order to adhere to community guidelines.
Due to COVID-19 guidelines we have switched to an appointment based service ONLY. Please call 519-253-7473 ext. 244 to book an appointment.
On Mondays, Wednesdays and Thursdays between 11:30am and 3:30pm we will have staff available to answer your call.  If you do not get a hold of a food bank worker please leave a message with your First and last Name, as well your phone number so we can contact you to set up an appointment.
Opening Hours:
Mondays: 11:30pm – 3:30pm
Wednesday: 11:30pm – 3:30pm
Thursdays: 11:30pm – 3:30pm
(Please note that the Foodbank does not operate during Public Holidays)
If you are interested in volunteering with us in the Food Bank please click the button below to learn more.
Court Services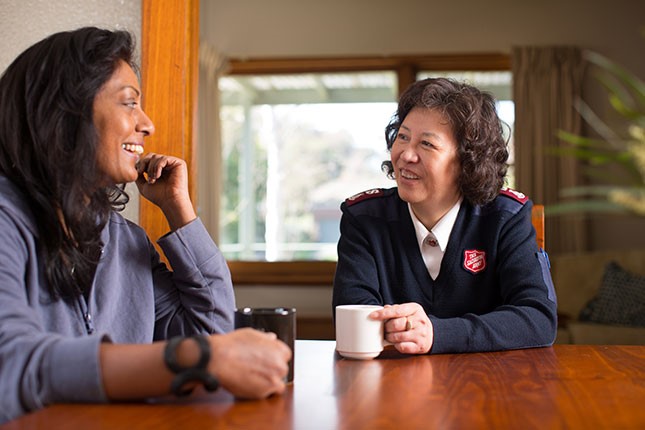 CURRENTLY ON HOLD DUE TO COMMUNITY GUIDELINES
The Salvation Army provides emotional Support and practical assistance to victims, witnesses, accused in a courtroom location.  We also offer referrals to other services if it is necessary.
Our Court Service workers are located at the Windsor Courthouse, with services available on:
Monday 8:30am – 2:30am
Tuesday 8:30am – 2:30am
Wednesday 8:30am – 2:30am
Thursday 8:30am – 2:30am
Friday 8:30am – 2:30am
Christmas Assistance Program -Toys and Food
During the Christmas season, we do our annual Toy and Food vouchers registration. We offer toys to children 12 years old and younger, as well as food assistance to individuals or families in need.
Community Programs
CURRENTLY ON HOLD DUE TO COMMUNITY GUIDELINES
Cooking Skills: The program is divided into two classes based on the focus of the intending class. Class 1 will focus on an intensive cooking program (hence requires pre-registration). On completion of the class, the client would be able demonstrate an adequate knowledge of meal planning, cooking & food presentation, and various cooking techniques. In the final stages, clients will receive a Safe Food Handling Certificate
Sewing Skills: The Program life is a two year period consisting of two 9 month periods. In the first year, clients will be exposed to training and mentorship opportunities. In the second year the clients will be exposed to placement opportunities. Pre-registration is required.
Wholeness and Wellness: participants will learn Yoga and Zumba techniques, increase awareness on mental health and emotional health and share in our community circle. Walk-ins are accepted.
Cooking Around the World: Get a taste of Windsor's cultural diversity, while building your social network. The core components of this class will focus on building social and cultural experience while enhancing our Canadian diversity
Contact Us
Emergency Shelter Services can be accessed at:
Fill out the form below and a member of our team will follow up with you.